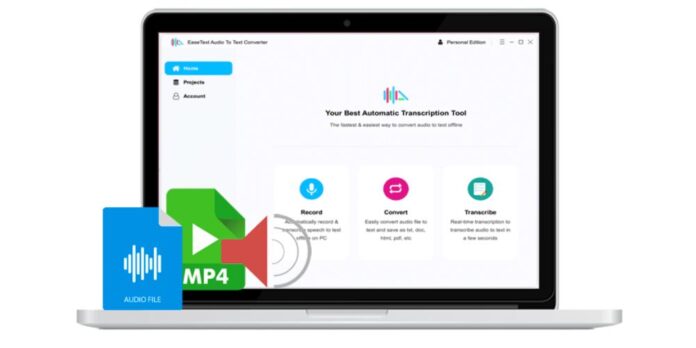 One of the common and widely used audio file formats is MP3. Whether it comes to audio recordings, speeches, audio/visual educational material, or interviews. Each one utilizes an MP3 format.
There are instances when you need the text form of these audio files. This can be for record keeping, aiding persons suffering from hearing impairment etc. In such cases, the easetext MP3 to Text Converter caters for your needs. Sounds interesting? Keep reading to discover how!
What is EaseText?
EaseText is a tool that aids in converting audio to text. It is software which you can download for free. Works on AI technology which recognizes audio file and accurately convert it to text format. No matter if you are a teacher, student or business professional. You can transcribe audio to text on the go.
MP3 to Text Converter: Step By Step
In this section, you will get familiar with step by step process of using EaseText (MP3 to Text Convertor).
First, you need to download the EaseText. You can do it both for windows as well as MacOS.
Now open the software and add the MP3 audio file to your system. Option exit to add up multiple files at once
After adding, select the storage location, file name, and the language you want to transcribe. In the end, click continue
Doing this will start conversion. Wait for a while. You will get the text in front of you.
An option exists to edit the file if you want. After editing, you can export the file in .txt, doc, PDF, HTML etc.
Why Choose EaseText MP3 to Text Converter?
There are several benefits which will compel you to make use of EaseText MP3 to Text Converter. Some of the notable benefits are:
Free Trial
In the beginning, you can use this software for free. You can test the product to see if it meets your requirements. After trying, you will surely add up this software to your Wishlist. You don't need to pay some amount to get the most out of it.
Support a Variety of Languages
When it comes to audio-to-text conversion. EaseText does not offer a limit on languages. No matter where you belong, you can convert the audio into English, Italian, Spanish, Chinese, or Dutch text. This way, you can conveniently understand the audio, especially if you are non-native.
Added Security
As in the modern world, scammers everywhere steal your data. But with the EaseText, this is not the case. The level of security this tool offer is unimaginable. As you can use this tool offline, it ensures safety. Every file or data piece remains within your system.
Super Convenient
Anyone can use this software with zero reluctance. Most people resist the technology adoption, which they find difficult to use. The user interface of EaseText is so user-friendly that anyone can get the most out of it. No additional skills you need to operate EaseText MP3 to Text Converter.